With Americans constantly striving to lose weight and get in shape, weight-loss and fitness industries are always introducing new products to help people quickly and painlessly reach their goals. This often leads to disappointment and temporary results, if any at all. CrossFit and P90X are two highly popular exercise systems revolutionizing the way people think about fitness. Here is what you need to know about them:

P90X is a 90-day workout plan designed to work out the entire body. The system consists of 12 workout DVDs, a nutritional plan, and supplements. Based on "muscle confusion" it is a cross-training method that constantly challenges the body and prevents fitness plateaus by constantly switching the order of exercises. P90X uses forms of cardio and weight training as well as yoga, plyometric exercises, and kickboxing. There is entire program takes 13 weeks to complete and promises a fitter, more athletic body at the end of the program.

what is crossfit ?




CrossFit is a strength and conditioning program aimed at overall fitness. Unlike many specialty workouts, CrossFit is based on being competent in ten key fitness areas: speed, agility, balance, coordination, cardiovascular endurance, stamina, strength, flexibility, power, and accuracy. CrossFit workouts combine sprinting, traditional weightlifting, and gymnastics. Each 20-30 minute workout consists of activities that range from lifting dumbbells and carrying heavy objects over long distances to rowing and jumping rope. Many law enforcement, military, and firefighter organizations use CrossFit to stay in shape.

So which is better? In the end, both are great ways to get in shape. The main difference is that P90X is geared more toward improving physique, and CrossFit is geared at an overall improvement in fitness. For those who like structure, P90X may be the best option, since CrossFit introduces new workouts daily that can be done inside or outdoors. Your best choice will also depend on how much time you have. CrossFit workouts take 20-30 minutes a few times per week instead of one hour, 6 days per week for P90X.

Whatever your fitness style, motivation can play a huge role in maintaining a fitness routine. Many people are more motivated when surrounded by other fitness-minded people. This is why membership-based gyms have remained strong in an age of fitness fads. Gyms are also great because they are full of experts who can give you personalized advice and guidance; something you just can't get from a DVD workout.
Powered by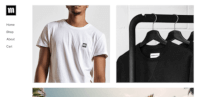 Create your own unique website with customizable templates.